There are a few things in nature that really speak to my spirit: the ocean, clouds, and trees. I can sit and look at any one of them and feel like God is telling me a story. Their sound and movement always seem to be sharing something about His character. They remind me that while He is so much greater than I can comprehend, He also cares about each little part of us, every moment and breath. He wants us to live lives on this earth that not only glorify Him, but are full and abundant; to walk through every circumstance in the grace He has given. Not that times aren't hard or that we never question why, but at the core of our being we rest in knowing He is God and He is good.
I was incredibly blessed to be able to travel with a group of Brave girls to Scotland last September. I had no idea that the trip was going to shake my life and spirit so greatly. It might sound trite and cliche to say that I am forever changed by that trip, but I truly am. Ray and Denise Hughes led us on a tour that showed us amazing sites while sharing the spiritual history of the areas we were in. We ended the tour at Carberry Tower in Musselburgh. It was like walking into a fairy tale or Jane Austen novel. The house and grounds are completely stunning.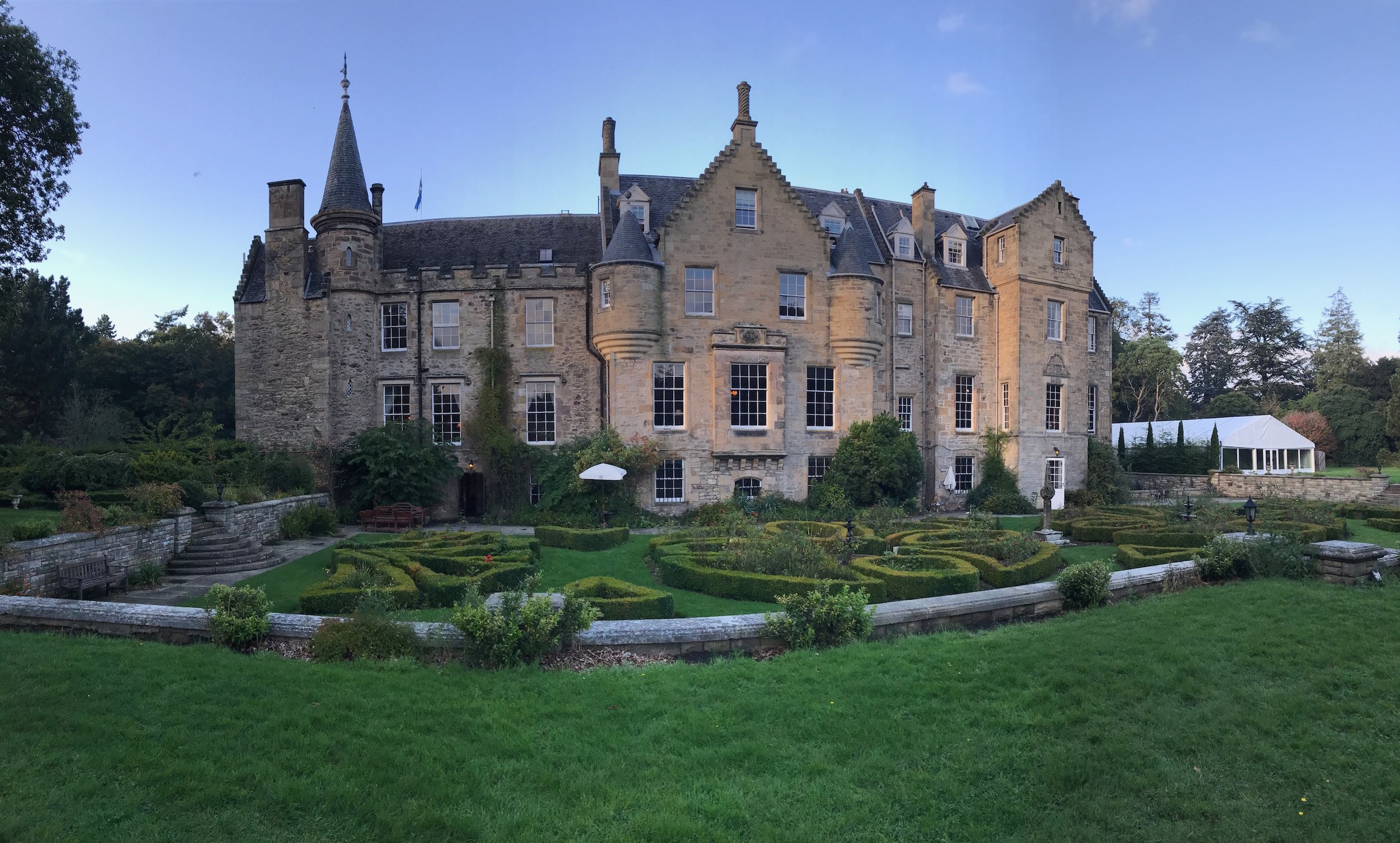 We stayed at Carberry Tower for three days and spent our time exploring the grounds, eating amazing food and writing songs. That's right...we wrote songs in a castle in Scotland. I won't hold it against you if you're a little jealous. I'm jealous of myself! To me, one of the most beautiful things on the grounds was a magnificent copper beech tree. As soon as I saw it I thought to myself, "I bet this tree has some stories to share." I was also overwhelmed with how much history must have happened around that tree.
I love stories of traditions and heirlooms that have been passed down in a family for generations. I think of the families the have immigrated from other countries or the pioneers that traveled west, and how they brought things with them that told the stories of their family back in their homeland. These things were precious and the stories about them were shared regularly. Often times the stories had a lesson in them about perseverance, love, loss, and overcoming. They were meant to encourage the next generation to move forward and not give up. But not all families had these wonderful stories and memories. It seems as though they had only hardship and sorrow, they were alive but not living; and, unfortunately, that's what they passed down to their families.
One morning I woke up with the word "generations" in my mind. I also thought it would be interesting to write a song about a tree. I mentioned this to my group when we got together to write and one of the other girls said she woke up with a melody and had the same thought about writing about a tree. Her melody was beautiful and made us think of leaves falling and swaying in the breeze. We talked about what we would want to leave for those following behind us, and what stories we want our lives to tell. We decided to title our song "Generations" and as we wrote, the words became a prayer of what we want to leave for future generations; a foundation that is built on the Lord, unshakable, full of peace, love, and truth.
I was reading in Isaiah a few months ago and this verse immediately made me think of our song and was a confirmation of our prayer:
…"to bestow on them a crown of beauty instead of ashes, the oil of joy instead of mourning, and a garment of praise instead of a spirit of despair. They will be called oaks of righteousness, a planting of the Lord for the display of His splendor." Isaiah 61:3
God used this trip to remind us that our stories and our songs matter not just to us, but to future generations as well. As we continue to walk bravely into the purposes for which we were created, let us remember that our voices carry a message that will transcend time and affect change for years to come. Let's allow our songs to become anthems for future generations that will anchor them to the Truth that has beckoned us to write in the first place.
GENERATIONS [D] 6/8
[Emmaline Guillory / Lisa Hentrich / Deanna Porterfield / Jennifer Sanders]
Verse 1
Ancient as the tree that stands for centuries
Roots that reach that depth of deep inside of me
I hear you whisper in the song of the leaves
You're calling to me from Generations
Your living water flows from a stream
That strengthens this branch
That was born from a seed
Of Generations
Chorus
In the shelter of your shade
In the refuge of your grace
Lord, let me always pray
For Generations
Verse 2
Let me carry on Your sacred history
Carved into the very soul of life in me
I feel your presence in the sway of the breeze
You're calling to me through Generations
Though I am here but a season of time
May my voice speak of
Your truth down the line
Of Generations
Chorus x2
Ending
We pray for the lies of darkness to be
Shattered by love, so Your light can free [all Generations]
We pray for the faith of our children to be
A spark that ignites Holy Praise to the King [for Generations]